Want to get in on the digital marketing freelance career wave and give your career a new lease of life in 2023? Don't worry; we'll cover everything you need to know to get a strong start in the field, from finding your niche to setting up shop. For starters, let's go over the basic framework of a freelance job in 2023.
The Service: Customer Experience
Many people put their name out there for part-time freelance jobs before they have their base set up. Don't promise something you can't deliver!
The Network: Backbone For Freelance Jobs Online
Like it or not, how well you build contacts in your field is just as important as your actual talent. You have to market your brand to people who are on the lookout for quality services.
These pointers are broad strokes. It's up to you to fine-tune- Expand your contact channels. With the foundation covered, let's get into the actual launchpads for freelance careers in 2023!
Better to Starting a Career in a Digital Marketing Agency
Starting a career in a digital marketing agency can be a great way to learn the ins and outs of the industry. It provides a valuable opportunity to gain firsthand experience and develop skills in areas such as SEO, social media marketing, and content creation. With time and experience, one can learn how to handle clients and build successful campaigns.
Once you have a solid understanding of how the field works, it is possible to branch out on your own and start your own agency or work as a freelancer. Remember, success in digital marketing requires a combination of technical skills, creativity, and the ability to communicate effectively with clients.
How To Start a Digital Marketing Freelance Careers in 2023
1) SEO Management
This is a reliable avenue to break into any digital marketer looking to make it on their own. Google My Business management is also prime real estate in that regard! The best place to start is to seek out bloggers and online journal writers who want to establish an online presence. You may not be rolling in the dough at the onset, but with some time, you can do it full-time!. learn Google My Business and How to Optimize it
2) Graphic Designer
This gig is arguably the backbone of part-time freelance jobs. It's held onto its title ever since the advent of digital marketing! The demand has always been consistent across social media clients and UI/UX designers alike! It's an avenue of busy days and creative jobs, so you'll never be short for work. There's a fair amount of setup required, but once you set up shop, you're off to the races! It's an avenue of busy days and creative jobs, so you'll never be short for work.
3) Content Marketing
Content is king in the social media circuit; there are no two ways about it. In this field, there's a dichotomy to what the job entails. People who take up content marketing in their digital marketing freelance career specialize in
In this job, you need to show that you can walk the walk. It always helps to have a substantial body of work to show prospective clients that you mean business. Content is driven to get consistent ROI in 2023, so keep that in mind!
4) Web Development
This is yet another field that is common among those who prefer part-time freelance jobs. Clients look for developers to handle the coding-heavy sides of websites, and that's where you come in. The position offers come chiefly from people who want to improve their website's UI/UX, but it's a steady stream nonetheless!
Since mobile-optimized websites are a massive draw for cross-platform promotion, your body of services will fit right in. Web development as a freelancer is an avenue that facilitates a smooth jump to going full-time on your work. It pays to upskill yourself in this field, so there's ample scope for growth, too!
5) Digital Influencer
Becoming an influencer is one of the most trailblazing lines of work in the digital marketing arena! Influencer marketing allows freelancers to pick and choose their field, bringing their clout and following to new brands. It's not a digital marketing freelance career in the traditional sense, but it sure yields tremendous results! It takes a while to get things going, but pretty soon, you won't have enough hours in a day to manage your jam-packed content schedule and partnerships!
6) Social Media Management
The old faithful of all part-time freelance jobs. Jobs in this sector involve managing social media accounts, image management online, and everything in between! Part of being a freelancer in social media is that you'll also have to handle the client servicing side of things. In 2023, everyone wants a slice of the social media pie, but there's a lack of genuine technical knowledge among the public. That's where you come in, deriving insights and providing inputs on boosting online presence for their brands.
7) Ads Manager
Few things offer as much value to clients as lead generation does. Facebook Ads are the battleground, with trends changing by the minute. Freelance jobs online in this sector revolve around one goal: boosting business through leads and conversions, which hold colossal value even in 2023. Ads Management jobs require a sharp mind that can grasp market trends on the fly. We recommend this for anyone who's up for the challenge!
8) Video Editor
Video-based content has seen a meteoric rise in popularity in 2023. It's no surprise, then, that freelance video editors are having a field day with the business opportunities available to them. Their job is to bring stellar production value and editing for a professional touch on client content. You will need the software and a powerful workstation to juggle multiple freelance jobs online, but it's pretty lucrative as an option!
9) Copy writer
Good copy is the beating heart of any social media campaign. Therefore, demand for copywriting never wanes. Freelance copywriters are often asked to weigh in and present creative content in engaging ways. It's all about saying a lot in a little! You will most likely be paid in terms of the hours you put into work rather than the raw content you provide. Freelancers can expect proofreading gigs now and then. It's one of the more rewarding fields out there by a long shot!
10) Creative Consultant
This job is reserved for the more experienced freelancers in the job market. In this avenue, people chip in with their creative inputs on campaigns for specific brands. This means that you'll be coordinating with creative teams from companies and other agencies to bring out the best results for campaigns. Work opportunities can be few and far between depending on the time of year, but the pay is decent across the board!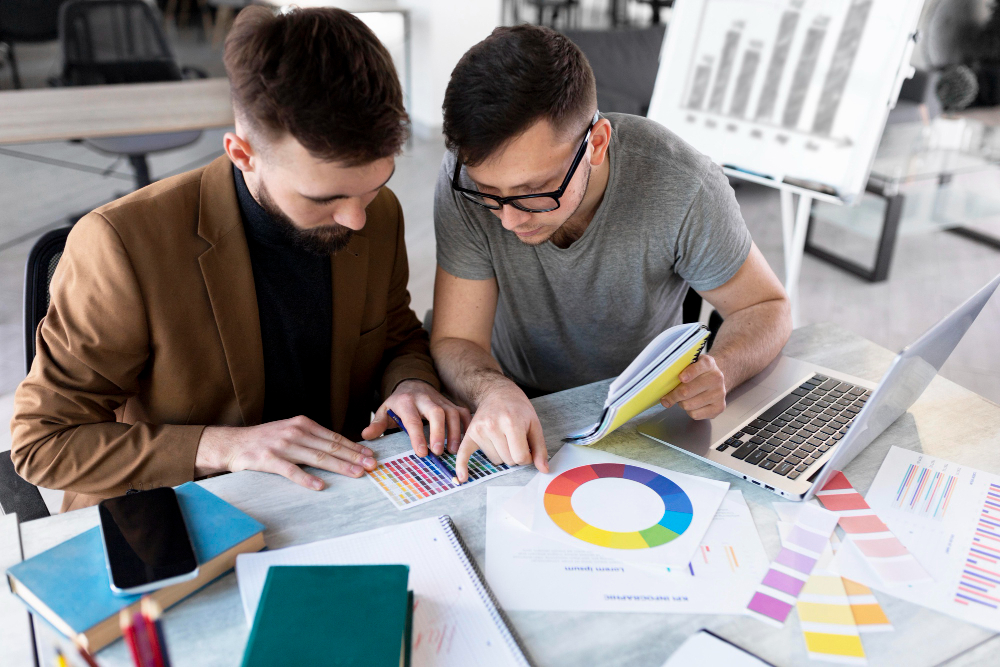 Securing Part-Time Freelance Jobs
You now know the most popular avenues for a digital marketing freelance career in 2023. What about the direction you need to reach those goals? We'll get you right on track to pursue the freelance career of your choice! We'll continue the list by exploring entry points, and action plans to establish your base in the next section.
1) Advertise your services on online platforms.
Online promotion used to be an option a few years ago. In 2023, it is vital. We cannot stress the importance an online presence brings to your work. Our recommendations for advertising platforms online are Upwork, Fiverr, and LinkedIn.
2) Fix up a rate card.
In 2023, everyone is facing budget cuts and optimization. That doesn't leave much room for bargaining, so it's better to have a rate card set in stone to streamline the process. It also shows prospective clients that you're professional!
3) Open yourself up to part-time employment.
Believe it or not, part-time freelance jobs are often the foundation stone of many careers in freelancing. Being bound by contracts may not sound ideal on paper, but the security that comes with it is hard to pass up on.
4) Always have a backup plan.
In uncertain times, it always pays to have a plan B in case things go south. The same goes for a digital marketing freelance career. You can either go ahead and expand your roster of services, or keep a full-time career on the side to pay the bills when the going gets rough!
5) Explore different business sectors.
One of the most common pitfalls in freelancing is being typecast as a one-trick pony. Make sure you experiment with different niches to keep your portfolio diverse. A diverse portfolio is key to maintaining an interesting freelance career.
6) Don't compromise on your infrastructure.
It's easy to dial back and cut corners on your workstation at the onset. Good tools ensure good production quality on your final output. If you don't have the money, work towards it as a goal!
7) Focus on branding.
You make a much stronger impression on potential clients when there are powerful cues to remember you by. Design a logo that embodies the goal of your digital marketing freelance career and carries an element of personal branding.
8) Never settle
Freelancing in the digital sphere is not for those who are content with mediocre goals. If you want better pay and better opportunities, you have to hustle! Aim higher in terms of project scale and scope to give your personal brand the reputation it deserves.
9) Upskill yourself.
It might sound like a diversion, but hear us out on this! Opting for a digital marketing course can be very beneficial for your freelance jobs online. With the right certifications, you can propel your freelance career to new heights. Luckily for you, we have something that's a perfect fit!
Conclusion
So there you have it! 19 different ways to start your digital marketing freelance career in 2023. Remember, the key to success is to stay curious, stay motivated, and keep learning. The digital world is constantly evolving, and it's up to you to keep up with the latest trends and techniques.
With hard work and determination, you can build a successful freelance business that allows you to work on your own terms and achieve your goals. So don't be afraid to take that first step and start your journey as a digital marketing freelancer today!